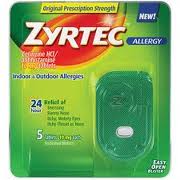 PRINT BEFORE THEY ARE GONE, this is a steal!!!

You can get a great deal on Zyrtec at Target and Walmart by using this coupon! Both stores have the 5 count priced at just $5.29, so it's only $0.29 after the coupon!
I love having these in my purse and car. You never know when you need them!